A great and stylish patio cover can make your outdoor living experience much better to increase the amount of time you spend outside.
9 Things to Consider Before Making A Decision
You have several items to think about before you make a decision on a new patio cover. You need to set a budget and try to stay within that amount, because some ideas can be quite expensive, while others are budget-friendly. 
You'll want to think about the architectural style of your home and choose something that will match it, instead of looking out of place. 
Find out what materials are readily available in your area and decide the location of your patio cover. It also helps to take into consideration the direction your patio faces in order to provide shade for it.
For a very natural feeling patio cover, choose bundles of reed grasses or woven wood shades and attach them to the roof frame over your patio or on a pergola above your patio. Extend the natural feeling even more by hanging some natural material outdoor curtains as well.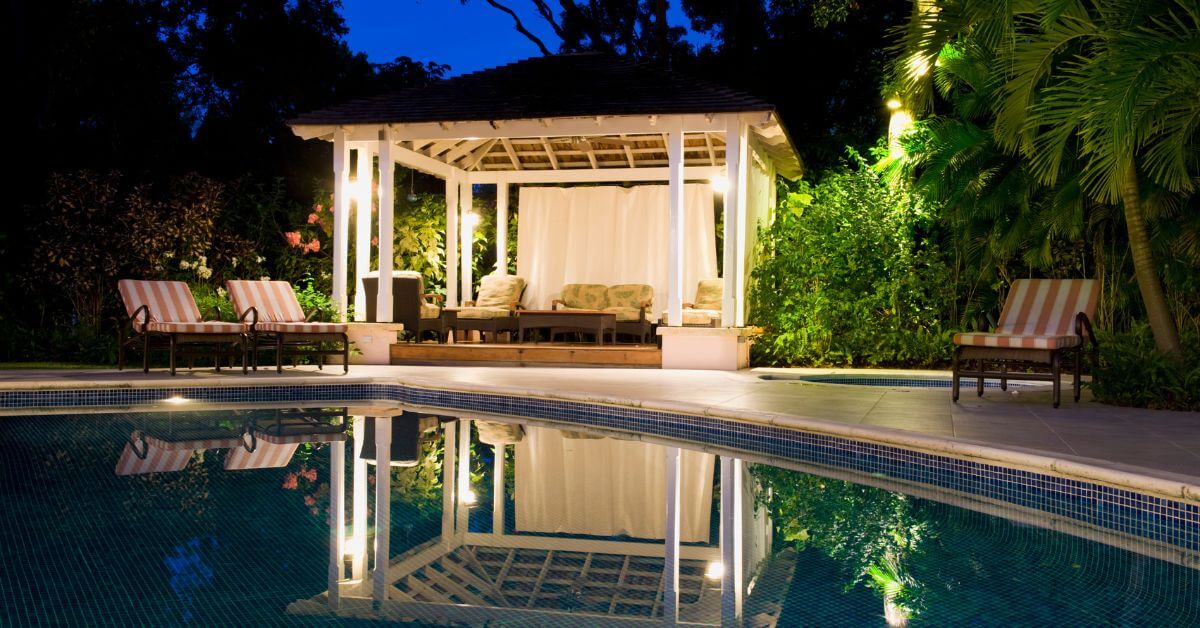 You can build a gazebo over your patio to shield you from the sun when it's high in the sky. You place outdoor furniture in the gazebo, and add benches all the way around it on the inside for additional seating for guests.
#3. Add a Palapa For a Coastal Vibe
Make your home feel tropical whether you are actually on the beach or not by building a thatched roof umbrella for a patio cover. Finish out this vibe by adding some tropical plants in pots and wicker furniture for the island feel.
#4. Go Casual with Shade Sails
Install shade sails over your patio for a bright and fun way to be in the shade. You can choose to use different colors, patterns, and shapes to make it very interesting when the breeze blows. This affordable shading idea only requires some anchors and a few poles to set it up.
Adding a metal gazebo over an unattached patio is a great way to have a shady entertaining area. Choose the style with a metal roof so it will be more durable than a fabric roof, and be sure that you anchor the support legs, so it doesn't blow over or twist in high coastal winds.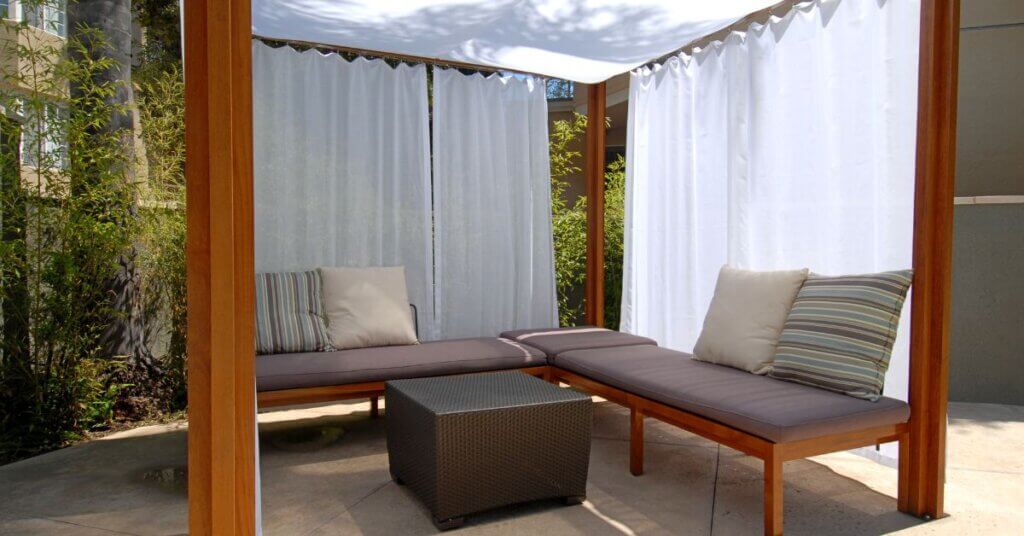 An affordable option is to hang fabric covers over a frame of any sort. It can be a simple frame with a rectangular shape for the roof and four supporting legs. Drape your fabric over the area, but don't pull it tight on the frame, or it will have water pooling on it when it rains. A draping position allows it to move with the natural breeze, and the water will drip off.
#7. Add Lattice Panels to a Frame
Lattice panels are not only for underpinning a home but they can be installed on top of a wood frame and used as a roof to let filtered lighting into your patio area. A great example of a lattice patio cover is a Duracool aluminum patio cover for a very long-lasting roof, instead of wooden lattice panels.
#8. Invest in a Huge Patio Umbrella
You can get a patio umbrella that is extra large and over 10.5 feet or more to cover quite a large area. These also come in rectangular styles that fit well over a patio area. Choose from many different colors, and this size is usually an offset style where it extends out and away from the support pole that is weighted down with a patio umbrella stand of some sort for stability.
Aluminum awnings are durable and long-lasting shade sources for your patio area. They can be free-standing on supportive legs, or they may attach to your home on one side for an attached patio area. These are custom designed to be the correct size for the particular area you want to be shaded.
Choose the Experts for Your Patio Cover
At AAA Awnings, our expert team is here to help you discover the best choice for your patio cover. We carry a full line of shading products for all of your needs in many styles and colors from which to choose. Choose from a Duracool insulated patio cover, aluminum patio covers, and many more. Contact us for a FREE in-home estimate for your cooling and shading needs.