All items require some sort of maintenance and cleaning to help them last longer and remain in pristine condition. Outdoor awnings are no different in this aspect. Keeping debris off fabric awnings tops can make the fabric much more durable, as well as oiling moving parts on the frame. You only need to do maintenance and cleaning once a year on your awning. Read on to find out the details about fabric awning care tips.
What Awnings Require the Most Care?
Fabric awnings do take extra care over the stationary type of metal awnings, but you only need to clean them and maintain their moving parts once a year at the beginning of the spring season when you will start using your retractable awning.
What Fabrics are Easiest to Care For
The easiest fabrics in terms of care are hands down the Sunbrella fabrics. They are the longest-lasting and most durable of all awning tops. They are treated to resist mold, mildew, and fading from the sunlight. When they happen to not shed water as well but are still in great shape, they can be treated with a spray, so they become more water resistant just like when they were new.
What Types of Weather Will Affect the Awning?
Very high winds and hard rain can affect your fabric awnings. The high winds can blow items onto the fabric top and tear it, while strong winds can also twist the metal frame. It's best to close a retractable awning anytime it is not in use to prevent damage.
Metal stationary awnings can face the same weather factors, but they are all metal and stand up to bad weather better than an awning with a fabric top.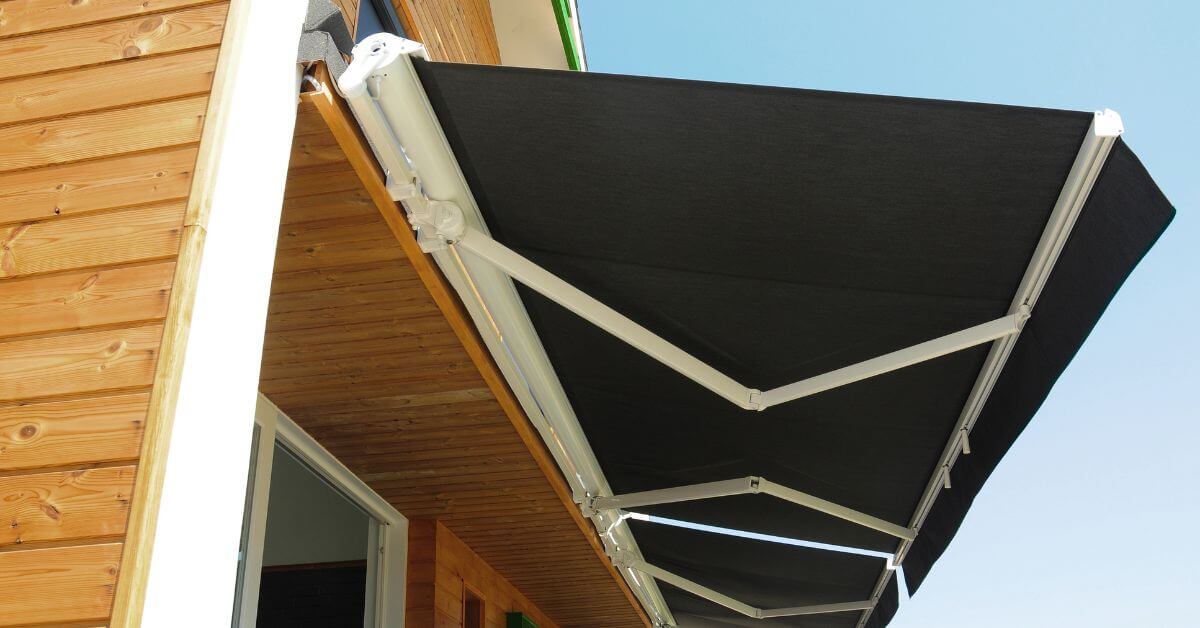 Easy to Follow Fabric Awning Care Tips
Fabric awnings are very simple to clean and don't require any specialized products that could be expensive either.
Open your awning fully and spray off the fabric top with a garden hose. This will remove any small twigs or leaves that are resting on the fabric.
Pour lukewarm water into a bucket and mix in a mild soap like Woolite or Ivory Flakes for washing laundry. Dip a soft-bristled brush into the solution and gently scrub the fabric to remove any other debris or stains on your fabric top.
Rinse the fabric thoroughly with the water hose, making sure that the water runs clear and that there is no soap left behind. If not rinsed well, the soap on the fabric will leave marks on it and a chalky residue.
Let the fabric completely air dry before closing your awning, either manually or with the remote control on a motorized version.
Brush the underside of your awning fabric with a broom to clean it.
How to Take Care of the Frame and Hardware
The frame and hardware on a retractable awning are self-lubricating and don't require a lot of maintenance. However, it's a good practice to look at the metal parts at the start of the season when you will be using them.
You can hose it off when you clean the fabric top and then wipe down the metal frame and hardware.
Lubricate the moving parts with a dry silicone spray lubricant, so you get optimal function in the moving parts with quiet operation. If you hear odd noises when opening or closing your retractable awning, try lubrication first before calling in a service call because this will most likely solve the problem.
The place on your awning that needs to have the most lubrication is on the end of the roller tube on the side opposite of the motor or gear.
Caution: Don't get the spray lubricant on the fabric on top of your awning, or it can reduce the moisture resistance.
Fabric Awnings: To Buy Or Not To Buy
Fabric awnings have a metal framework with a piece of fabric on the top to block out sunlight and heat from overhead on your patio, porch, or deck. Fabric-topped awnings may be fixed or retractable so you can open and close them. You can ensure simplicity of use by purchasing a motorized retractable e awning, so just one touch of a button opens, closes, and adjusts it for you. Fabric awnings should be closed in bad weather to protect them from damage. You can choose a model with wind and rain sensors on it/ so that it will automatically close and protect your awning when the rain is hard or the wind is high.
Stationary awnings stay open at all times. They are usually made of metal and are designed to stay open in all types of weather conditions including strong winds and rain storms.
Sunbrella retractable awnings are the most versatile type of shading solution you can purchase for your home to install over a patio, deck, or porch for cooling shade in the hot summer months.
Awnings with a fabric cover are a great investment for any home. They reduce your energy consumption in the warm months and block sun and heat from the windows and doors under the awning. They also preserve your outdoor furniture better by being in the shade and can allow you to spend more time outside all year long while being comfortable.
Contact us at AAA Awnings as your premier awning specialist store in California for a FREE in-home estimate for the highest quality retractable awnings with the most options possible!