Fabric awnings, whether they are fixed or retractable awnings, add comfortable seating areas for you and your guests with shade on hot summer days. They are available in many colors and are very durable for long-lasting products to withstand harsh weather conditions.
The Best Materials For Fabric Awnings
Sunbrella fabrics have teamed up with SunPro Retractable Awnings for the highest quality shading solutions in the nation. Sunbrella fabrics are treated to be fade resistant, as well as mold and mildew resistant and water resistant for durability. The bright colors stay true even if they are exposed to the sun's UV rays continuously in a stationary fabric awning.
Sunbrella awning fabrics are recommended by the Skin Cancer Foundation as an effective UV sun protectant to decrease sunburns and future skin cancer rates in homeowners that use their retractable awnings often. Sunbrella fabrics have also earned Greenguard's gold certification for superior fabrics with low chemical emissions in the manufacturing process.
SunPro retractable awnings come in a large variety of colors in several different tones for extraordinary and eye-pleasing awnings. The color choices include a large array of stripes, solids, and multi-tone and two-tone designs, so you are sure to find the perfect match for your home or business. 
Choose from light tan and beige, blues, reds, greens, blacks, and grays to match the exterior of your home or business flawlessly.
Estimated Price of Fabric Awnings
Custom fabric awnings can vary in price by quite a bit because the awnings are made to fit your outdoor spaces perfectly and not all areas are the same size. It depends on the size and the style of awning that you choose, but a quality fabric awning can cost between $500 and $600. Sunbrella fabrics are backed by a 10-year warranty, so their cost per year is very little and they are energy efficient as well.
Retractable awnings will allow you to recoup your investment in them quite quickly with all the energy you will save on your cooling bills in the summer. Generally speaking, residential awnings are usually placed over a seating area in the rear of your homes, such as a patio or deck. When your retractable awning is open it gives you the cooling shade of up to 20 degrees cooler under it. The awning also shades your windows and doors under it and doesn't allow the sun to shine on them so it keeps your home much cooler inside, to enable less use of energy to keep it at a comfortable temperature. In fact, many homeowners leave their retractable awnings open even if they are not sitting outside under them for fantastic energy efficiency.
Keeping your fabric awnings clean is a breeze. You merely open it if it's a retractable type and just brush off any loose leaves, debris, or twigs from it. Spray the awning down with water from your garden hose and then add a small amount of dish soap to a bucket of water. Dip a brush in the solution and scrub the fabric to remove any debris or grime from it. Rinse it off and let it dry thoroughly before closing a retractable awning.
One of the great advantages of fabric awnings is that when they become damaged or old, you can merely have the fabric portion replaced for a nominal fee instead of needing to purchase an entire new awning. This saves you the cost of the awning's frame or structure, as long as they are still in good shape.
Innovative Retractable Awnings
Modern retractable awnings can be motorized to allow you to open or close them with a simple touch of a button. This gives you a lot of conveniences over manually opening and closing them, which actually only takes a few minutes. Some retractable awnings can include rain and wind sensors that will automatically close your awning for you if they sense enough wind or rain that could cause harm to your fabric and structure.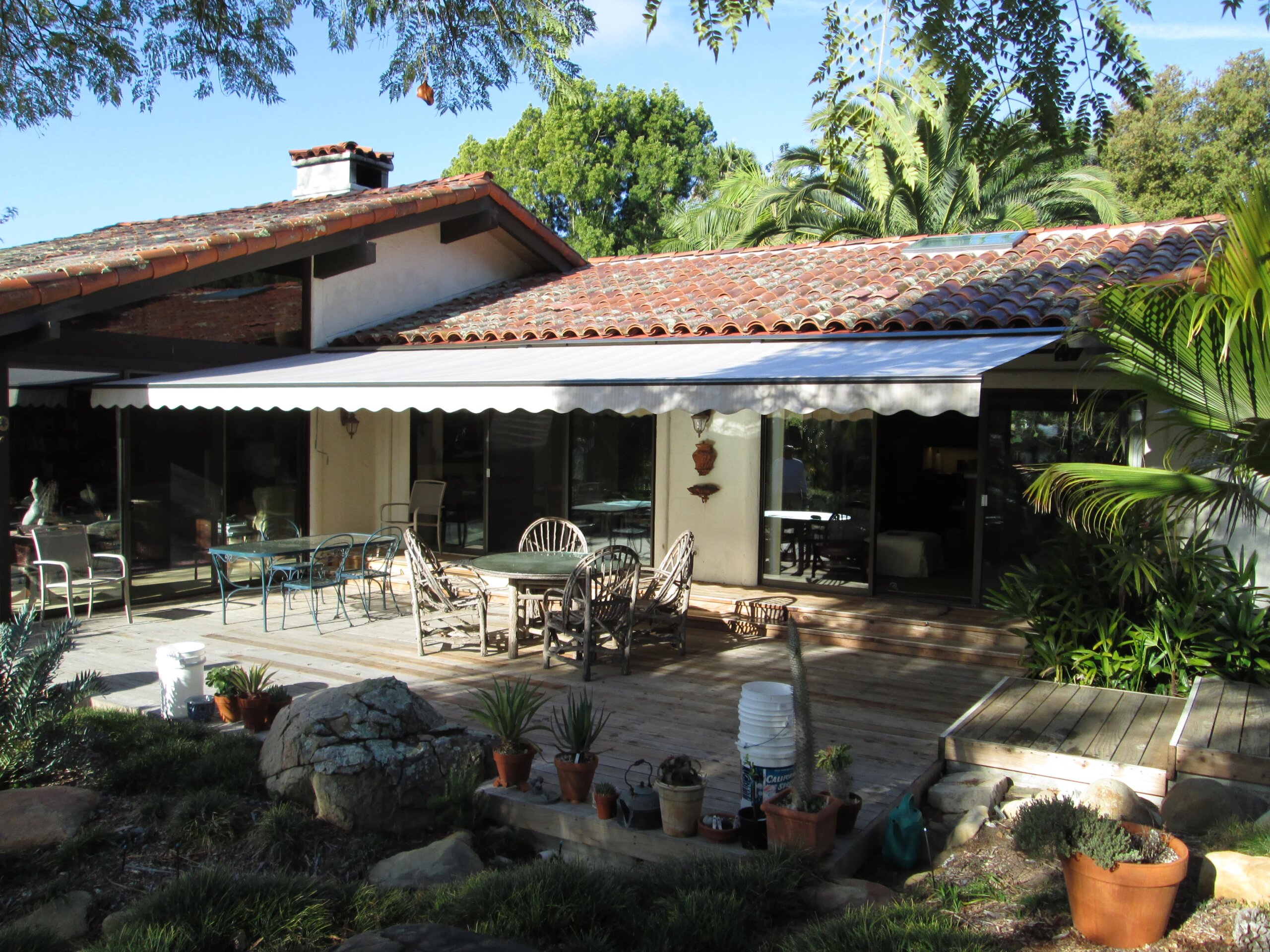 Our high-grade fabrics are not only for SunPro retractable awnings but they are used in all of our other custom products including fixed awnings that remain open at all times and patio covers. The same fabrics are used in custom drop shades that can shield you from the sun in an outdoor space and you can create an outdoor room in the summer that is cool and insect free as well. We also use quality fabrics for outdoor furniture cushions and throw pillows and lovely, comfortable cabanas. We are well established and have been building a good reputation as a major supply source for both fabric and aluminum awnings of all types.