Breaking Down the Different Types of Deck Awnings
April Showers Bring May Flowers
We've all heard the saying that April showers bring May flowers. It's basically describing the seasons because in the spring we get a lot of rain showers, which in turn allow the flowers in your garden and in the wild to sprout and bloom. You have many options for a deck awning to protect you from downpours and the hot sun in summer days.
When you decide you would like a deck awning, you will have a lot of decisions to make in order to secure one that will serve all of your needs that you want and last for many years to come. The best idea is to contract a professional awning company in your area so you can get the most options and have a great product that is very durable.
What are the Different Types of Deck Awnings?
The three main types of awnings for covering your deck or patio area are retractable, fixed and portable or freestanding. In these different main types, you also have sub categories that differ in the mounting configurations and sizes.
Retractable Awnings
Retractable awnings are increasing in popularity every year in sunny regions of the country. These awnings are much more durable and they last for many years. You can open them to have shelter from rain or sunshine or close them to enjoy soaking up some sun on cooler days. When it's not in use, you can close it by retracting it and the canopy rolls up inside a cassette, which protects it from the elements when it is not in use. This is the beauty of retractable awnings to not only give you a deck that you can configure as you wish, but it also makes it durable. 
Retractable awnings can be manual or motorized. The manual models open and close very easily and in only a few minutes by hand turning a crank and positioning the support arms. The retractable awnings with a motor operate with the touch of a button, a remote control or a sensor. Retractable awnings that are custom made may include sensors to be programmed that will operate with certain triggers, such as opening automatically when it rains or when the sun is beaming down. On the other end, these can be programmed to retract when a stray storm in imminent with gusty winds. The act of closing automatically also extends the life of your awning because strong winds can tear an awning, which results in needing repairs. The motorized retractable awnings have you covered for all types of in climate weather, even if you happen to leave your home when the weather occurs. 
Fixed Awnings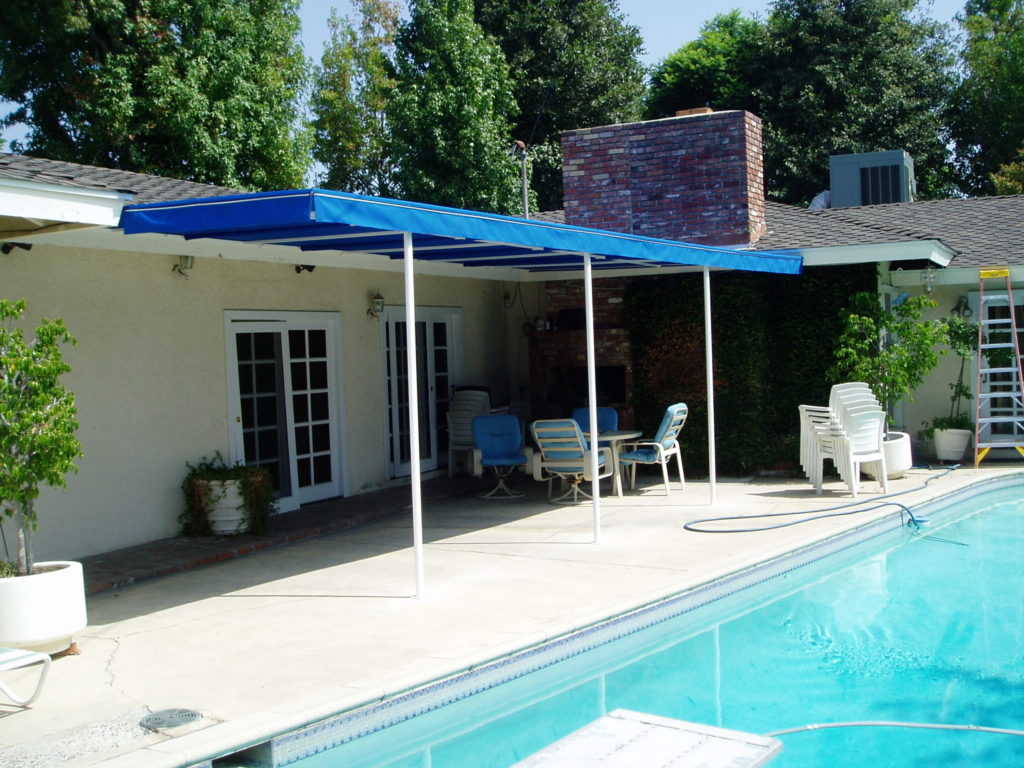 Fixed awnings provide constant shelter under them on your deck. They are mounted to your home or mobile home and remain open at all times. If your deck is quite large, a fixed awning to fit it may have additional support poles on the end of the extension to make it more durable and long lasting. This is a great option if you want your deck or patio covered 24/7 and it removes the need for opening and closing it either manually or with a motorized version. 
Portable or Freestanding Awnings
You have several options when you decide on a portable or freestanding awning. These are considered as awnings that are not attached to your home, but they can still provide protection from rain and sun when you need it.
Umbrellas
Patio umbrellas work well if you only want shade over a smaller area, such as a small deck or only over your outdoor dining set. 
Table umbrellas usually have a base so it causes no undue stress on your table. You can find these in several different sizes and they open and close with a hand crank.
Cantilever patio umbrellas have a tilting feature to block sun from an area in afternoons when the sun is bright and at a low angle, such as a patio or deck that faces west. These are considered portable, but less so as a table umbrella, because they are much heavier.
Commercial table umbrellas are the best choice for any shading effect on your patio or deck at home. They are made from much more durable fabrics so that they are ultra-long lasting for many years. 
Canopies or shade sails as they are often called can be made to order in any size or shape you wish when they are custom made. They mount to fixed objects or they can mount to support poles to cover large areas on a deck. You can also have several smaller canopies in different colors to cover a large deck, which makes your home appear more like a five star hotel.
Freestanding awnings are exactly as the name implies–they are mounted to a frame of some sort instead of mounting them to your home. The commercial grade structural framework gives you a long lasting product and it can cover very large decks and patios entirely. 
Choosing a Great Fabric Cover
It's in your best interest no matter which style of awning you want for your deck to choose a quality fabric for the cover. Sunbrella fabrics are the best products you can find and last the longest on any sort of awning. Sunbrellas benefits are:
Durable

Provide UV protection

Dirt resistant

Have color retention to stay vibrant for a long time
You can also provide shade on your deck that will almost enclose your area entirely if you wish. A custom drop shade can be added to an awning to extend downward at the point farthest from the mounting surface. You can have this made in any length you wish to give you the ultimate in a shading product and also provide privacy.
Additional Exciting Features to Consider
If you choose to go the route of a retractable awning with a motor, you can enlist the help of an app or mobile device control for your smart phone or tablet. Then you can open and close your awning even if you are away from home. If you happen to be planning a get-together, you can open your awning before arriving home and before your guests arrive to cool your deck off in advance.
Integrated lighting is an exciting feature especially for larger decks to give you some great LED lights underneath your awning. 
If you live in Northern California, at times the nights are quite cold and even in the daytime in the winter. You can have a nifty heating system integrated into your awning to ward off the chill in the evenings.
So Which Should You Choose?
Portable and stationary awnings may be a little less pricey option, but unless you use a professional to provide you with a custom awning system, your great outdoors area may not last very long. You should look at the commercial awning products for options that last the longest before having to replace them. If you sit outside quite a bit and like to have shade and protection from rain, the best bet is to hire an awning company so you will get something that is well worth the money, set up properly and includes all the special features you desire.